Rehearsal Times and Venue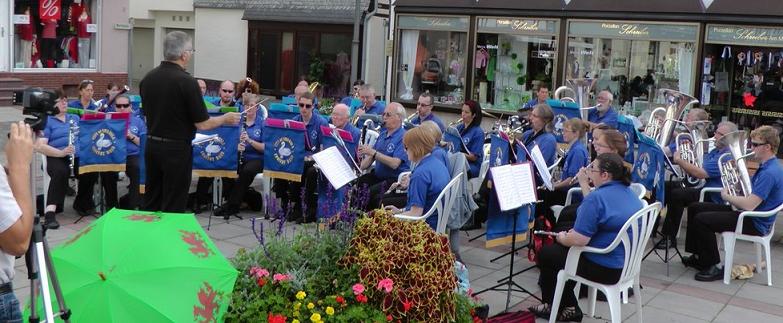 A picture of us playing at the Marketplatz in Bad Orb, Germany in September 2010
Rehearsal Details
Rehearsals take place each Monday and Wednesday (not Bank Holidays) in the Rhyddings Church Hall, Rhyddings Parks Road, Brynmill (Uplands), Swansea, from 19.30 to 21.00. We find that an hour and a half twice a week allows ample time to get things right for concerts and events.
See below for maps showing our rehearsal venue.
New members soon fit in and are warmly welcomed. If you feel like blowing (or hitting) your instrument in convivial company, you can simply turn up at a rehearsal and see our Musical Director, Stephen P Price (or any member of the band), or get in touch with him in advance on 07521 971331, email stevep147@googlemail.com, or with the band secretary, Lynne Ellis on 07824 565267, email lyn.ellis@sky.com.
We obviously prefer members to turn up twice a week to rehearsal, and most do, but if you could make only once a week, we will still be interested in your joining the band. Students tend not to be there during vacation (and at exam times), but we're terribly understanding and don't put any pressure on them.
Car Parking

Please note that there are Parking enforcement officers patrolling the area around the band hall.
A Number of the band have been booked.

Do not park on Double yellow lines and observe any signs in the area. You have been warned.    
Maps of where we rehearse
Rhyddings Church Hall, Rhyddings Park Road, Brynmill (Uplands), Swansea.
Large-scale map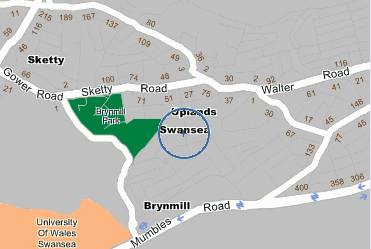 From Gower Road or Mumbles Road make for the blue circle on the map (we are at the centre of it); use the East corner of Brynmill Park (green area) to locate the position on the map below.
Precise location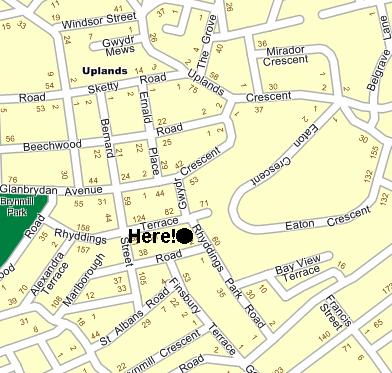 Also useful is Google Maps.