About Us
History of the band
The City of Swansea Concert Band was founded in 1968 by the late Stuart Price. It was then known as the West Cross & Mumbles Military Band, and performed its first engagement in July 1968 in the grounds of Oystermouth Castle, Mumbles (Mumbles is a village close to Swansea). Here are the only two photos of that occasion with Stuart Price conducting: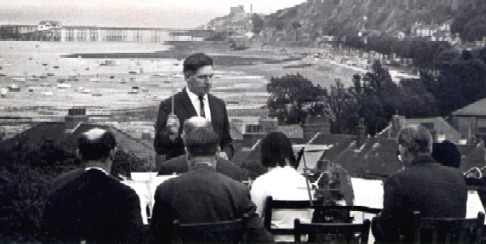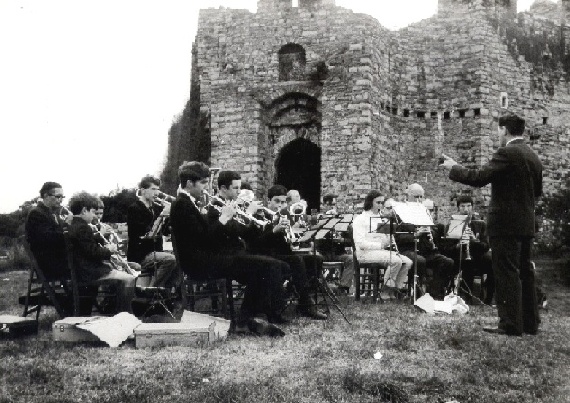 By 1970, the band had become the Mumbles Concert Band, and played under that title until March 1984 when, with the permission of the City Council, it changed its name to reflect the area it covers, namely the City of Swansea. Over the last 40 odd years, it has grown in numbers to an average of about 40 players ranging in age from 14 to over 75, and members of the band come from all walks of life. We have good links with Swansea University, and students often come and play with us.
The Musical Directors of the band have been Stuart Price 1968 to 1998, Stephen Price 1998 to January 1999, John Price 1999-2020, and Stephen Price again currently.
Organisation
The band has a Management Committee of six members to run its affairs. Each member of the band pays an annual subscription (STILL only £50 per annum).
The band operates in line with its Constitution.
The band has a Safeguarding Policy in place.
The band has an Equal Opportunities Policy in place.
The band has a Data Protection Policy in place.
Performance
The band is available for hire at any occasion, and can alter numbers of players and music to suit taste.
We give regular performances in the local community, and have also performed throughout Wales and parts of England. The highlight of the band year is the annual concert which takes place in November or December.
To listen to examples of the music we play, click on .
Rehearsals
Rehearsals take place on a Wednesday evening between 7.30pm and 9.30pm. Click here or on the Rehearsals button on the left for details and where to find us.
We offer a warm welcome to new players of wind or percussion instruments. The band demands a certain instrumental skill of its players, but we try to be as inclusive as possible.
We have a wide range of instruments for loan, and an extensive music library (most of our music is listed on our site.)
If you wish to join (or hire) the band, don't hesitate to contact us (see below), or simply turn up at a rehearsal (see ). You will be made very welcome. You might also like to look at our page to see where we have vacancies, but even if you play a wind instrument where we don't have vacancies, we would still like to see you.
Sponsorship
We run a sponsorship scheme. If your company sponsors the band, you will be maintaining an important music making body in the City of Swansea. The advantages to you are that the band plays in a variety of locations throughout the Principality and can advertise your company while playing. For further details click .